Dependable Scissor Jacks Improve the Personal Lifting Experience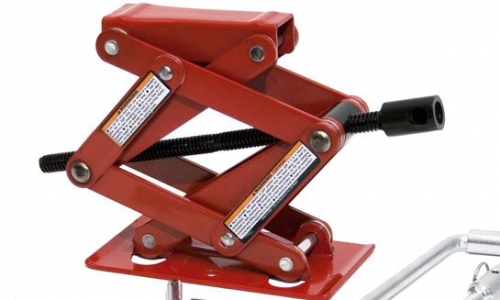 Whether you use it on the road during an emergency or at home for vehicle maintenance in your garage, the scissor jack from U.S. Jack can give you the best lift available. Designed to be the best lift for your vehicle to change tires, the durable 1.5 ton capacity medium duty scissor jack from U.S. Jack will give you a strong lift when you need it for years.
Easy operation design
The scissor jack from U.S. Jack is great for anyone to use for lifting vehicles because of its simplicity in design while maintaining a durable and dependable structure. With a combined right and left hand drive screw, anyone can more easily lift their vehicle by having accessibility to the use of their dominant arm. The drive screw is also threaded, making for faster rising when lifting the vehicle in question. We carry only the best products in the business for our customers, and the scissor jack will keep your vehicle lifted when it counts.
A quick lift scissor jack
All too often, scissor jacks require an exhausting amount of cranks before you finally reach the height necessary to safely work under a vehicle. The scissor jack carried by U.S. Jack is designed for faster rising, that, when placed correctly under a wheel well, will give you a smaller number of rotations to give the lift necessary for swapping tires out. And, with its innovative design, after you are done with your easy-to-use crank, it can more readily be stored with your jack upon detaching. We want lifting jobs to be made easy, and the scissor jack will make it simpler than ever for you to do it in your own home, or on the road.
With a long history of providing the best jacks around, U.S. Jack can give you durable jacks that give you the strongest hold available. For more information or to get started on an order, contact us today!