Find an Easier Solution to Lifting Jacks with a Dependable Hydraulic Pump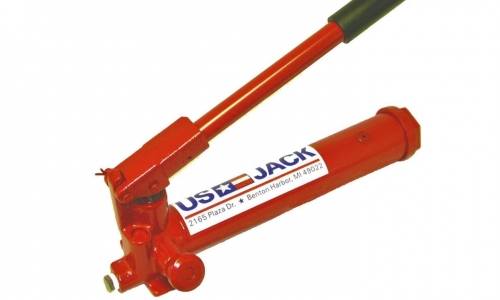 With a New Year come new opportunities for you find an easier way to lift jacks through the use of a hydraulic pump from U.S. Jack. Designed to make pumping a hydraulic jack that is compatible with the pump an easy job, the hydraulic pumps that U.S. Jack offers are professionally crafted to make the experience of using a jack easy to manage while also providing a method of raising jacks that will work for years.
All-in-one packages
When you need a hydraulic pump for your lifting purposes, U.S. Jack provides all-in-one hydraulic assemblies that include a hydraulic pump, attachment hose, and ram assembly. These bundles of parts mean that you get everything you might need to attach your pump to a hydraulic jack and get started on the process of raising it, in turn raising whatever it is under. And, because these assemblies are shipped fully-assembled, you can use them right out of the box to get to lifting straight away. We care about our customer's experience when shopping with us, and the assemblies we offer provide have everything a potential buyer might need to have confidence to start lifting their jack with their new, professionally made hydraulic pump.
A hydraulic pump for life
Although our pumps are designed to last for years to come, everything eventually faces wear and tear from use over the years, so our pump and ram are repairable with spare parts and seal/repair kits available. Our pump assemblies are designed to ensure that our customers get the easy lifting they need for the long term, but the repairable capability of them ensures that they can take advantage of the operations of their pump assembly far into the future.
Founded in 1988, U.S. Jack Company continues to provide the best products for a quality jack lifting experience. Contact us soon to get started on an order for a hydraulic pump to make your lifting in the New Year easier than ever.