Get an Extra High Lift with Hi-Range Hydraulic Bottle Jacks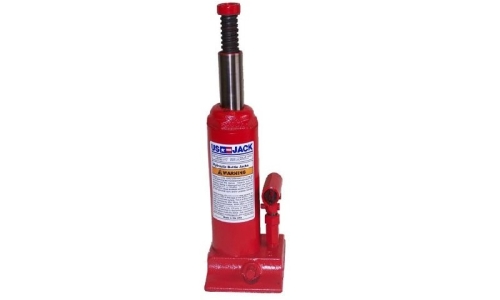 When dealing with equipment or vehicles that require a higher clearance than others, a hi-range hydraulic bottle jack is the perfect tool to keep them held in place while work is done underneath. Compared to standard pumps that give a lower threshold, hi-range options provide more standard lift height, larger rams for extensive lift height, and the same great stability that normal bottle jacks give.
U.S. Jack carries hi-range hydraulic bottle jacks that precisely provide this to any operation where they are used. With our trusted products, your lifting operations will gain the dependability and longevity with tools that they need for smooth operations for years to come.
Perfect for overseas military
Vehicles and equipment on overseas bases still need to receive maintenance as they are used, and a hi-range hydraulic bottle jack can make performing that maintenance much easier. From parts that have faced wear and tear from use to components that have faced damage because of the environment, any lift that needs to be done by the military in the Middle East should be done with the right gear.
U.S. Jack's hi-range bottle jacks not only provide this dependable lift each time they are used, but they also operate within a range of -40 degrees Fahrenheit to over 200 degrees Fahrenheit. This means even in the cold of night in the desert to scorching hot days, your hi-range hydraulic bottle jack will provide a dependable lift that won't risk the safety of your base's engineers.
Safety first for heavy lifting
Hi-range hydraulic bottle jacks can lift higher and allow for better clearance, but this this doesn't mean that they lack safety in their function. When a hi-range bottle jack is given a load to lift that exceeds the capabilities of the jack, it should have a mechanism as part of its build that prevents it from straining and breaking under the weight.
The bottle jacks from U.S. Jack come with a safety fluid bypass system that prevents users from overloading the jack and causing damage to it. This not only makes for a safer lift that is always within the capabilities of your equipment, but also helps you to always know what your equipment is capable of and not have to replace it because of an accidental overload.
With decades of experience and a desire to provide the best hydraulic bottle jacks in the business, U.S. Jack products are the ones that you can always count on for heavy lifting needs. Whether you're military or a garage looking for a good lifting tool for hi-range equipment, contact us to find the best jacks for the job!