How to Use a Transmission Jack to Make Jobs Easier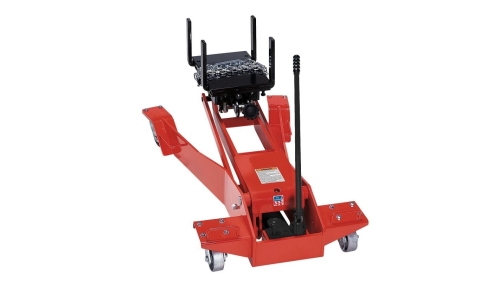 If you have ever wondered how to use a transmission jack to make the process of working a transmission of a vehicle more easily, U.S. Jack is here to help. A transmission jack most often used by mechanics who need to work on a transmission. Transmissions are a lot heavier than some might realize, reaching upwards to 400 lbs. on the higher end. So, a professionally made jack can make the process of doing a lift this heavy much easier.
No matter what kind of vehicle you have, if it has a transmission, there is a good chance that U.S. Jack has a great option for you to take advantage of.
Wheel and lift
The transmission jacks that U.S. Jack has to offer are all built with four wheels to easily maneuver the jack underneath the vehicle you're working on. Once positioned, they operate on a standard hydraulic jack lifting system. This lifting system allows businesses or individuals to lift heavy transmissions carefully and easily, removing a lot of risk that would usually come with moving such heavy equipment.
These capabilities for easy operation with wheeling and lifting makes U.S. Jack transmission jacks a great option for maintenance centers, car repair or modification enthusiasts, and more.
A jack for every need
Not only do the transmission jacks from U.S. Jack all perform great lifts where they're needed, but we also provide a variety of options that are all specialized to suit your specific lifts. We carry truck and bus transmission jacks, under hoist jacks, truck transmission jacks, and low-boy jacks. So, whether you are dealing with larger transmission jacks that require a higher rated capacity lift or smaller cars that require just a standard lifting capacity, our team can help.
We carry all the gear that businesses and individuals need to ensure that they can make any lift they need when they need it. Some of our transmission jacks are made directly by our company, and others are imports, but both options will provide the best lift in the business for years to come.
With decades of experience in the business of jacks and jack accessories, you know you can count on U.S. Jack to provide the best transmission jacks for any vehicle. If you are interested in our transmission jacks and want to learn more or start on an order for one, contact us today!