Hydraulic Jacks Bring Power and Support Overseas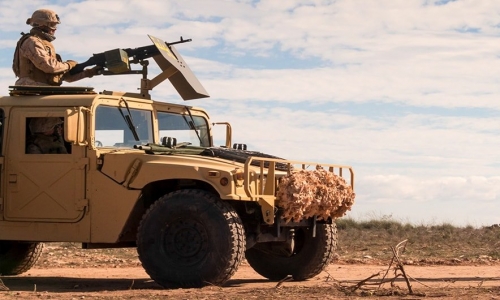 It is well known that our military uses some heavy-duty equipment and vehicles for daily operations, and maintenance can be made easy when they need to be lifted into the air by investing in hydraulic jacks from U.S. Jack. Built strong and dependable for even the heaviest of loads, all the options of hydraulic jacks at U.S. Jack can provide you with long-lasting support to allow work to be done underneath the load being lifted.
Tested dependability
Wondering why you should use U.S. Jack over the competition? Our hydraulic jacks have already been used and depended upon by the U.S. military for heavy-duty trucks, military and defense vehicles (FMTV, LMTV, etc.) and more! When we say that our hydraulic jacks provide you with "military-grade" strength, we mean it! Our hydraulic jacks, once pumped into position, will hold your vehicles and equipment atop the electroless nickel plated steel ram for as long as you need. Built for constant use, our hydraulic jacks are designed to be durable enough to last a lifetime of lifting.
Different lift capacities
Depending on how heavy the load is that you are lifting, U.S. Jack's hydraulic jacks also come in different capacities, even going upwards of 30 or 60 tons! Whatever heavy equipment you have that needs to be raised up, U.S. Jack is sure to carry a hydraulic jack that can help you get the lift you need that will not let you down. The strong, USA made design of our hydraulic jacks bring the power and support that any military operation can use to ensure they have a way to maintenance even the heaviest of vehicles on base.
As the premier provider of hydraulic jacks, pumps, and much more, U.S. Jack proudly serves the U.S. military with powerful and dependable jacks that will last a lifetime. If you are interested and looking to start a contract with us, contact us today!