Hydraulic Pump, Ram, and Hose Assemblies Add Versatility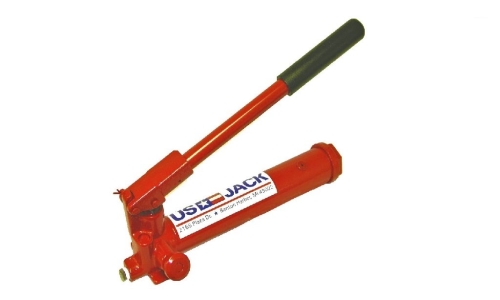 Compared to a stationary hydraulic pump jack, a hydraulic pump, ram, and hose assembly provides versatility to your lifting. When the job calls for it, a standard hydraulic bottle/hand jack is still a great tool, but a pump, hose, and ram assembly is another great tool to have on hand when the situation calls or a ram that may need to place the ram in a harder-to-reach location.
U.S. Jack provides hydraulic pump, hose, and ram assemblies that come with everything an individual or business need for versatile, dependable lifts. With an experienced team that has provided jacks of all kinds to customers for decades, you can count on U.S. Jack to give you the best hydraulic pump assemblies in the business.
Everything all in one place
When you regularly need lifting of any heavy equipment, vehicle, or anything else, it can be beneficial to have all the component parts that you need right out of the box. A new hydraulic pump assembly should have dependable parts that you don't have to worry about the integrity of when you receive them, so the parts are U.S. Jack are made with only the finest components, making them the superior choice.
U.S. Jack's assemblies are all made with 100% USA made steel and 65-45-12 ductile iron castings, making them hardy enough for long travel and repeated use over the years. The Port-A-Power hydraulic pump and ram, ram and hose half coupler, and hydraulic jack hose all come with each option of hydraulic pump assembly.
Change lifting as needed
The hydraulic pump assembly is a popular item because of its quick capability to adjust on where the lifting is happening. Whether you need the pump close by on a lift or need to use the full extension of the hose, the hydraulic pump assembly is a versatile piece of lifting equipment that allows you to change where your lift is needed, when it's needed.
U.S. Jack provides hydraulic pump assemblies assembled right out of the box, allowing you to quickly achieve your versatile lifts. Each component is carefully crafted to ensure you get the most out of your lifts, no matter how you use your hydraulic pump and ram.
With satisfied customers across the country and oversees on our military bases, U.S. Jack is the brand that those in need of a hydraulic pump, hose, and ram assembly can count on. Contact our team today to learn more about the components included and how, together, they create a great piece of equipment for lifting.