Reach Further with Lifts Using a Hydraulic Pump and Ram Assembly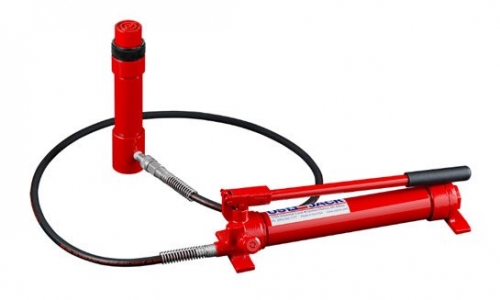 When you need a hydraulic jack that can reach more distance, a hydraulic pump and ram assembly from U.S. Jack can be the perfect tool for the job. Rather than use a standard hydraulic jack that requires you to pump the ram up at the same spot you place the jack, a full assembly with a connector hose can allow you to place a jack under heavy lifts while maintaining enough space away from the object to pump more easily.
U.S. Jack provides a variety of jack designs such as our hydraulic pump, ram, and hose assemblies to ensure our customers always have the right tools to get the job done.
A connector hose allows for more reach
Depending on where you need lifts and what kind of equipment you are working with, there are plenty of times where a hydraulic pump, hose, and ram assembly are the right choice. Available in 4, 10, and 20 ton capacity pumps these assemblies come ready to use wherever you need them. With the hose attachment that travels between the pump and the ram, you can, as stated earlier, provide yourself with a longer reach while pumping to have the best tool for the job.
Crafted from durable and dependable U.S. steel, the hydraulic pump and ram assembly from U.S. Jack will get you through even the toughest lifts.
Easily repair every component
If you are worried about wear and tear of a hydraulic pump and ram assembly compared to a standard floor jack, your mind can be at ease knowing that each part of your assembly is easily repairable! U.S. Jack's assemblies have spare parts and seal/repair kits available for the pump and ram in case anything gets too worn out over time, and the hose can just as easily be replaced.
We offer only the best equipment with the best parts to last you for years, so you don't ever have to be too concerned with your equipment while working on a job. Dependable lifts are the name of the game with U.S. Jack, and our hydraulic pump and ram assembly will give you them for a lifetime with repairable components.
Always offering the best jacks for your needs, U.S. Jack can help you find one, even for the toughest reach. Contact us today to learn more about our hydraulic pump assemblies and how they can help you!