Upgrade Vehicles More Easily with a Dependable Hydraulic Transmission Jack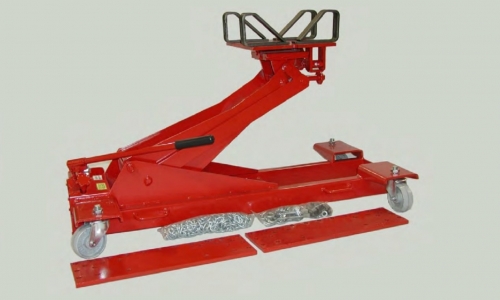 If you have never worked with components of a vehicle before and are considering making some upgrades to one, a hydraulic transmission jack can be a great addition to your toolset for added safety and protection against accidents. Parts of vehicles can often be much heavier than people anticipate, and it pays to have added safety when working with them. U.S. Jack is a trusted supplier of quality jacks that you can count on when you want to get under any vehicle and know that you will be kept safe.
Regular use or special situations
Whether you are a shop that regularly swaps transmissions or are an individual that will be working on passion projects and wants to do so more safely, the transmission jacks from U.S. Jack can keep you and your parts safe. Each jack that we provide is ideal for either situation, as they are built to last and will provide you with guaranteed safety even after years of use. We have had many business and personal operations trust our jacks to great success over the years, and we are sure that they will serve you well too.
Get the transmission jack you need
Because we care about getting our customers the proper transmission jack for their needs, U.S. Jack offers four different options of transmission jacks that can help your lifts depending on the vehicle you are working with. We offer a truck and bus transmission handler, an under hoist automotive jack that is great for passenger cars, vans, and light trucks, a truck transmission jack for heavy truck transmissions, and a low-boy truck transmission jack that provides a broader life range to handle a larger variety of transmission configurations. With these different specialty transmission jacks, we guarantee that no matter what our customers are looking for, they can find the best solution for their operation.
Crafting our own products out of quality U.S. steel and always providing our customers with the best hydraulic jack solutions that they can count on, U.S. Jack is your best option when you need a transmission jack. If you are an individual or business that wants to work on a transmission without worry, count on the jacks that we have to offer. Contact us to learn more about the jacks we offer or to get started on an order!