When to Choose a Scissor Jack vs. a Floor Jack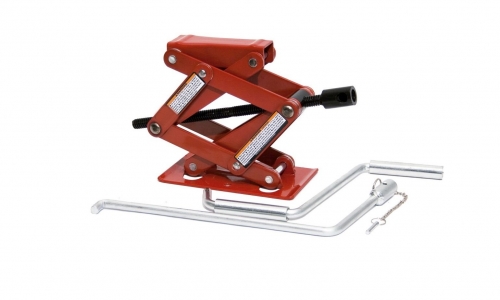 When you need a lift, it is important to know when you might need either a scissor jack or a floor jack for the job. U.S. Jack provides both options of jacks for you to choose from, but there are different situations in which either could be the more useful option. The team at U.S. Jack has the experience to assist you in figuring out which will work best for your uses and recommend the best from our options.
U.S. Jack is dedicated to helping customers find the best solutions for their jack lifting needs. With our assistance, you can get a strong and dependable lift you need, each time you need it.
Benefits of both jacks
Both a scissor jack and a floor jack are great options when applied in situations where they really shine. A scissor jack is lightweight, making it a great option when you need a portable jack that can travel more easily. It also has a simple-to-use design, needing only a crank and some elbow grease to get a strong, solid lift of up to 1.5 tons. They also tend to be a more affordable option that floor jacks.
Floor jacks are a heavy-duty, durable, and versatile jack that can be maneuvered easily within a set space thanks to their wheels. A counter balanced handle allows for easy lifting, up to capacities of 2, 4, 10, and 20 tons. A foot petal for engagement and positive release lever provides precise control for the user.
Floor and scissor jacks from experts
When you work with U.S. Jack, you are working with professionals with decades of experience in the field of jacks and heavy lifting. We'll provide the guidance that you might need to make the right decision about your lifts. With spec sheets provided for each jack and their capacities, you can get precise information necessary to make the most informed decision with your purchase.
A brief recommendation that we can provide, however would be the following: If you are doing tire changes or any other work on a lightweight vehicle, choose a scissor jack. If you require a more versatile jack for larger, heavier vehicles or equipment, a floor jack is the way to go.
U.S. Jack is a proud small business that makes it our duty to provide quality jacks where they are needed.  When you want dependable lifts from durable jacks, count on U.S. Jack Company to help you out.