When to Choose Long Ram Hydraulic Jacks for Lifting Projects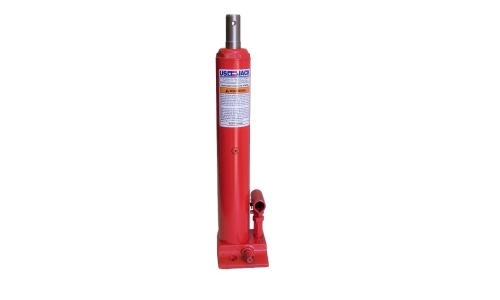 Whenever you have a lift that requires a taller piece of equipment to hold things safely and effectively in place, a long ram hydraulic jack is the best choice. If you have worked with hydraulic jacks before for heavy lifting, then you may know that one restriction that they face is in the height of the ram. Whether your equipment stands tall off the ground, or your workspace setup requires a piece of equipment that can reach higher than a standard bottle jack, then a long ram hydraulic jack can be a great benefit to own.
U.S. Jack provides long ram hydraulic jacks that are unmatched in the power unit market. 11% USA made and constructed for all your heavy-duty lifts, there is no tall project that can't be completed within our long ram jacks' capacities.
Different units for different requirements
Although each of the different units that U.S. Jack offers for long ram hydraulic jacks are made of the same heavy-duty ductile ion castings, electroless nickel plated steel ram and steel pump piston, and large steel base, they also come in different sizes for different capacities. These capacities are a 1.5, 3, 5, and 8 tons, allowing those working with heavy equipment to lift to whatever capacity their work requires.
Each provides the same great experience of lifting that all U.S. Jack products offer, and each is sure to help your work be made easier through smooth and dependable lifts.
Same ease of use
Despite the added height of the long ram hydraulic jacks, they still offer the same ease of use that standard hydraulic bottle jacks offer. The large base provides the long ram hydraulic jacks with a wide stance and positive load support that allows you to pump the ram without ever having to worry about instability.
And, with a safety fluid bypass system in each, you can guarantee that you never overload or damage the jack. We care about providing our customers with quality lifts that not only get their objects off the ground but allow them to do it with ease and without damaging their equipment.
U.S. Jack is the premier provider of not just standard bottle jacks, but also specialty jacks like the long ram hydraulic jack. With distributors all across the U.S., anyone with tall lifting needs can count on the long ram hydraulic jack to provide them with a dependable lift for as long as they need. Contact us today to learn more!